This is a 7mth old cross of Frau Dagmar Hastrup and a Austin, I dont think this cross happened, but it has been in the ground for 5 months and has never stopped flowering, the blooms are quite big and the foliage very rugosa.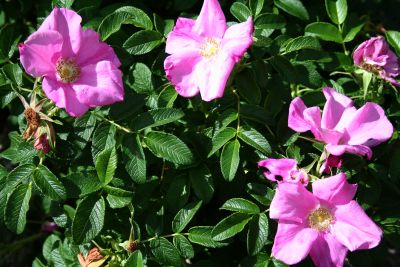 I don't think it happened either, Warren, but it is unusual for rugosa seedlings to flower in their first year. I have seedlings here that are three years old and still haven't produced their first flower (from Frau Dagmar too). I guess this is grounds for thinking that maybe it did work
I think we need more hybrid rugosa here in Australia

Good to see I'm not the only 'sucker' working with it. I have a feeling, Warren, that rugosa x Teas will be a good combination to try in the future to introduce more petals and maintain diploid lines.
Have you got 'Ann Endt'? I would definately try and source this one if you are interested in breeding hybrid rugosa in purple. It's a
to work with because it is very choosey about which pollen it accepts and its pollen doesn't work well on everything either... but it forms an enormous number of OP hips that germinate like weeds (literally... I pull them out from the garden by the bucket load from around the plant from where hips have dropped).
I have 5 rugosa crosses which I kept, 3 from the same cross as the above, one from a different cross which has'nt flowered yet and the last, same cross as the pic, has different foliage and redish tinged, but the most frustrating thing is its been the same size for months, maybe standing next to it with a shovel might make it buck up lol.

With the Tea crosses might go on HMF and see what the Rugosa x Tea look like. I still think the best option in rugosa breeding is using excisting hybrids, they would be triploid with the possibility of having a 2+ 1 and greater petal numbers. Crossing these F1 hybrids on tea's still would give you the desired diploid offspring because of the (1) in the 2+ 1.

Those hybrids which have flowered have set no hips, Frau Dagmar Hastrup sets hips very easily which makes me wonder.
It's the leaves I like. David Austin was working with rugosa. He's bringing his F1s together to bring the rugosa features out again. Rose like 'Wild Edric' look interesting.
Those hybrids which have flowered have set no hips, Frau Dagmar Hastrup sets hips very easily which makes me wonder.
Except that sometimes it can take a while for seedlings (or any new rose forthat matter) to mature enough to form hips. 'Scabrosa' formed none it's first year, about 5-6 the second year and a tonne in its 3rd and 4th. Rugosa is noted to have a juvenile phase (which is why it is unusual for 1st year seedlings to flower) so yours may well start forming op hips once it grows up a bit.
Simon I didnt look very hard went out today to do some work on them, lo and behold there were hips on the other side of the bush, one o f the others had a lot as well, definately convinced this cross did'nt work, but they sure do look pretty though

---
Permissions in this forum:
You
cannot
reply to topics in this forum