A rose I bred a few years ago
Great Western x Iceberg
, produced a flower that was very doubled and did nt have much in the way of anthers, what i did find I crossed with Thomas Graham and now have a very well formed hip. I think this will create some thing nice , can just hope and see. The reason I used Graham Thomas was to open the flower up , otherwise you end up with something to tight
This is the
Great Western X Iceberg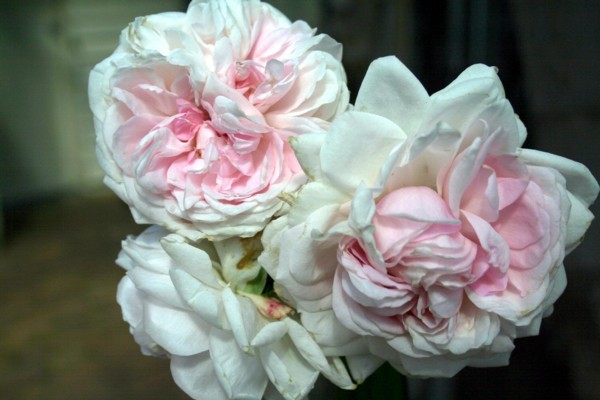 That looks pretty amazing to me! What is the bush (health etc) like?

Meryl




Number of posts

: 195


Location

: Sydney, NSW


Registration date :

2009-07-23



Has a very old fashioned "cabbage-y" sort of look . I suppose it doesn't like damp weather much . I like the colour , does it have much scent ?
Shall look forward to seeing the Graham Thomas crosses.

Cheers. Rosalie

OzRose




Number of posts

: 510


Age

: 56


Location

: In the hills. S.W of Western Australia


Registration date :

2010-03-13



Firstly to Meryl, the health of the bush is good. Howdy Rosalie,it does have that old world look about it and the perfume is heavily sweet. It needs a bit of heat to open fully, but i feel GT will fix the problem.

Its sort of got that (Souvenir de la Malmaison) look.

you took the words right out of my mouth ... I was going to say Souvenir de la Malmaison as well, and then there is also a similarity to Claire Austin.

RitaG




Number of posts

: 278


Location

: South Coast NSW


Registration date :

2009-05-24



Hey Warren,

Margaret asked on HMF if 'Great Western' suckered on it's own roots? Do you have any idea? I'm interested in this as well. It's a lovely looking rose.

I thin the old 'Iceberg' still has a few surprises left up its sleeve too. Have you ever looked at 'Burgundy Iceberg's pollen.. the anthers are almost jet black and the when the dehisce a small slit appears in the black/red anthers and then the pollen spills out.. it's pretty amazing really.

Have you ever used any bourbons with moderns before. I used 'Vivid' this year on moderns and have hips forming for the first time. What's the bush like on this one? It's a lovely toned flower.


Howdy simon

Great Western suckering on its own roots, you need to stand there with a cricket bat and wack them as they pop up in front of you. When I planted it bare rooted it actually flowered and grew to a monsterous size ( 7ft) in the first year.

I used iceberg a few years ago did a (Iceberg X Mme Caroline Testou) and produced a pale pink with a white eye, perfume is like sticking your nose in a carnation. I called it Disco Lemonade. I think i used Burgundy Iceberg this year, but I would have to hit the record book to check.

Old garden types crossed with moderns

This next section , where do I start. Have used Bourbons , Gallicas , Hp , Portlands and Mosses in search of structure and perfume. With Bourbons , Gallicas and some HP's the mildew was so bad that about 90% were culled within 4wks of germination, the only gallica cross which showed some resistance was when tuscany was used. Some HP X modern offspring showed some mildew but not as bad as the Gallica's and Bourbon's. Laneii the moss which i crossed with moderns the results were better than all of the above.

I think when on a search for perfume and structure of old world roses , one has to very aware some of the old timers can be prone to fungus problems and the modern which you decide to use , must be very sound , health wise


---
Permissions in this forum:
You
cannot
reply to topics in this forum