Years ago I did a cross of
Charles Austin X baronne Prevost
what I got was unexpected , two very doubled roses producing what is in the picture. Thing about it though, I left in the ground to remind I dont really have control and any thing can happen.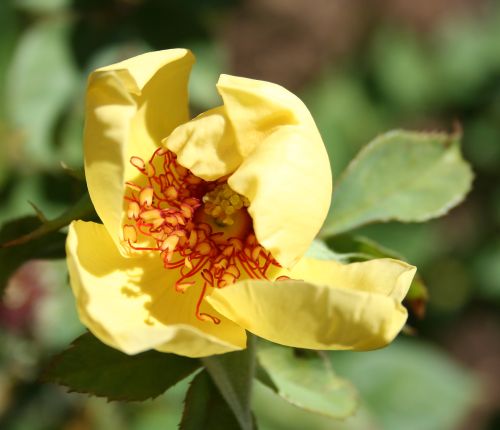 Starting to open and bright yellow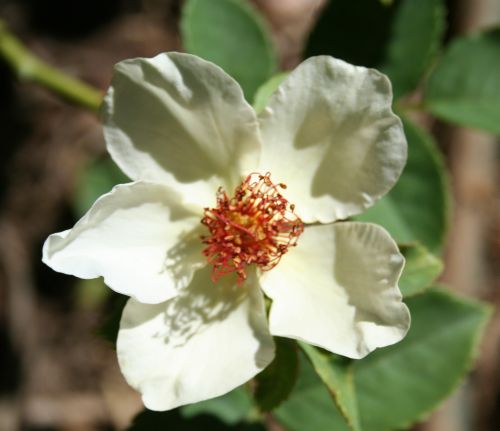 Fully open and faded
Why didn't I see this post before??? Personally, I love the single flowers. there's somethnig very beautiful about a perfectly symmetrical single white rose flower.
How's this for nerdy genetics stuff:
This is also a good exmaple of how HMF can help breeders understand what they get and is also a good example of how breeders can help everyone else understand what is behind all the roses we use. Single flowers is actually recessive to double flowers so single flower genes can be carried for generations until it matches something occurs to make it homozygous.
If you look at the 'Charles Austin's parentage tree on HMF you will see that one of the roses that went into its makeup is 'Dainty Maid', a five petalled single. What's more, 'Dainty Maid' is tetraploid which means that not only is there four copies of every chromosome and gene but for it to be a tetraploid single means all the genes at this locus must be single flowered genes. So it has four copies of the single flowered genes to pass on and can't infact pass on anything else.
'Constance Spry' was bred by crossing ''Dainty Maid' with the Gallica 'Belle Isis' and most Gallica are also tetraploid (see
[You must be registered and logged in to see this link.]
which means that 'Constance Spry' must have inherited two copies of the single flower gene from 'Dainty Maid' and who knows what else is behind 'Belle Isis'. We can say, however, that 'Constance Spry' has at least two copies of the single flower gene with absolute certainty. This is actually why I decided not to perform a self cross with 'Constance Spry' like I had wanted too because the chances of me getting singles was 50:50.
My guess is that both the single genes from 'Constance Spry' have gone forward into 'Chaucer' and when 'Chaucer' was crossed with 'Aloha' it again must have passed on the two single flowered genes from 'Chaucer' that were carried again from 'Dainty Maid' into 'Charles Austin'.
'Baronne Prevost' doesn't have its lineage documented but it must be carrying at least two single flowered genes as well and if you look at BP's list of descendants you see that it too has thrown singles in 'JMB-07-0637' (see
[You must be registered and logged in to see this link.]
confirming that it must be carrying single flowered genes.
What you can conclude with 100% certainty is that your seedling above is a tetraploid and it cannot pass on double flowered genes to it's progeny. This makes it a useful breeding tool, however, because it also means it can only contribute single flowered genes so it should, unless it is crossed with something carrying one or more sets of single flowered genes, be able to breed only doubles.
The downside is that double flowers is affected by other modifying genes. Double roses must first posses the gene to make them double and then all these other modyfying genes determine just how double they will be by limiting (or otherwise) the expression of doubleness. Trouble is, the single flowered roses also possess these same modifying genes but we can't see them because their influence is limited to modifying the expression of the double genes, not the single ones. So, with 'Charles Darwin' and 'Baronne Prévost' being very double, there is a good chance that this single white/yellow seedling of yours will be able to pass on the ability to be very double when combined with other double roses. If choosing a parent to go with this rose I would choose something that was less double to balance this possibility out and get something somewhere in between maybe.
You would also need to keep in the back of your mind that your seedling will pass on two sets of single flowered genes to all it's progeny. Chances are, it would disappear again and could reappear somewhere randomly many generations down the track. If paired with a diploid, the triploid progeny will have two out of the three genes as single flowered genes meaning it only has to get one more from somewhere else to also be single. It only needs one copy of the double gene to be double, however, so if you go back through the lineages looking for evidence of single flowers in the pedigree you can make crosses that guarantee doubleness...
cool huh LOL This is what makes rose breeding fun IMO

Howdy Simon

One of my dreams is to breed the perfect single, what people fail to realize is how hard it really is, taking into consideration they only have 5 petals, and nothing else to back it up , if there is an imperfection. With a double, the petal count can hide any fault.

This charles Austin X Baronne Prevost seedling I crossed it with Abraham Darby, which produced a double dark pink flower

---
Permissions in this forum:
You
cannot
reply to topics in this forum